Social media
How to Use Facebook Ads to Promote Limited-Time Offers
Do you want to promote limited-time offers this holiday season? Wondering how to create an automated Facebook ad sequence to deliver daily specials?
In this article, you'll learn how to set up a multi-day Facebook ad campaign to automatically deliver time-sensitive offers.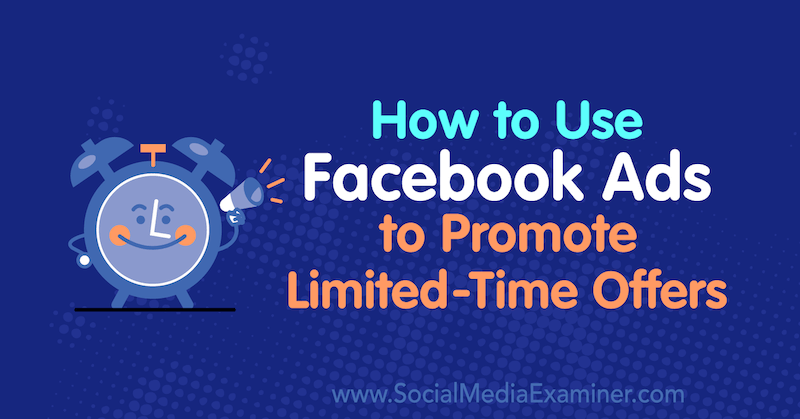 Prepare Your Holiday Campaign Assets in Advance
The holiday shopping season in the U.S. is typically launched on Black Friday—the day after Thanksgiving—which is always on the fourth Thursday in November. Because this is the biggest shopping day of the year, most businesses offer significant savings on their products to compete in the gift-giving extravaganza. This phenomenon isn't limited to the U.S., though; the holiday fever extends around the entire world to boost sales.
To stand out from the competition this holiday season, consider running Facebook ads to promote limited-time offers. There are several options to time the countdown of your offers, including:
The 12 days of Christmas
The 8 days of Hanukkah
The 7 days of Kwanzaa
Any number of shopping days until the gift-giving celebrations of your choice would work.
To maximize potential sales, use a multi-faceted solution that involves Facebook video and retargeting ads to deliver your offers automatically. A few days prior to your campaign going live, you'll need to have the following areas covered:
Ad collateral
Custom audiences
Retargeting audiences
Facebook ad campaign approval
Follow these steps to set up your automated holiday campaign for success.
#1: Design Your Facebook Ad Collateral
You'll need one trigger video ad and one additional ad for each day of your holiday campaign. To visualize this, in a 12 Days of Christmas campaign, you'd need one trigger video ad and 12 additional product ads. Design these ads in advance.
Below is an example of a trigger video that could work well to garner attention for your holiday campaign. To optimize your video for all placements, keep it between 5 and 15 seconds so it will run anywhere that Facebook places ads. You can also change the parameters of your video to square or vertical for better viewing on the Instagram feed and Stories.

When creating images and videos for your series of ads, make sure the content is cohesive by sticking to a similar theme throughout all of the ads. This will increase the likelihood that people who watched your initial audience-building video will recognize your daily campaigns that remind them that your sale is live and active.
The following images were created in Canva with free photos and text overlays. Keep your visuals simple and bright to capture attention more easily.

#2: Run a Facebook Video Ad to Populate Your Custom Audiences
For this type of promotional ad campaign, it's a good idea to create a few custom audiences in Facebook Ads Manager to reach the people who are looking for your promotions. Custom audiences are warmer audiences that are already familiar with your brand. They're much more likely to buy from you than a perfect stranger who's never heard of your company.
One of the fastest ways to build Facebook custom audiences that you can later retarget is to run an ad campaign with a video—this will be your trigger ad. A slide show video that highlights the upcoming specials you plan to promote for the holidays is a great way to raise awareness about your campaign.
You can choose to target a saved audience based on the theoretical demographics, psychographics, and other interests of potential customers; lookalike audiences of existing customers or followers; or existing audiences based on website visitors, page post engagers, or contacts in your database.
You can create a variety of custom audiences including:
People who have visited your website in the last 6 months or less
Your contact list
People who watched a portion of the videos on your Facebook page within the last year
People who have engaged with your Instagram or Facebook posts within the last year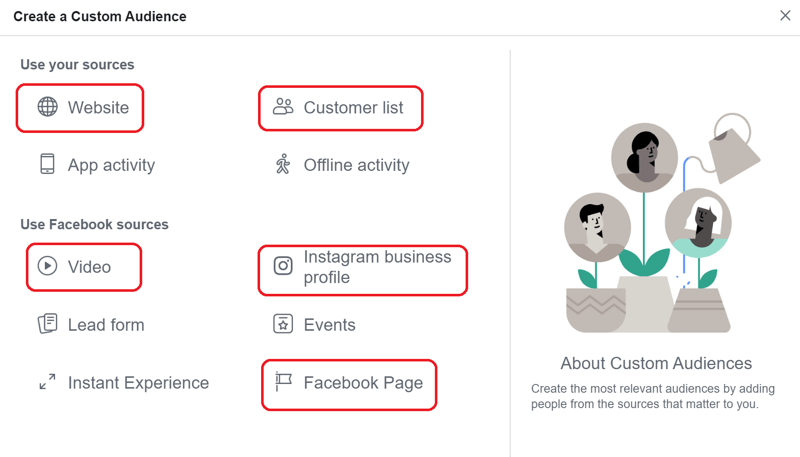 If you want to remarket to people who have visited your website previously, you must already have the Facebook pixel installed on your site. Facebook lets you target people up to 180 days (6 months) after they've visited your website.
#3: Set Up Your Automated Multi-Day Facebook Ad Retargeting Campaign
To enhance the chances of people visiting your site during the holidays, you can mimic the delivery of a daily email sequence with a Facebook ad sequence that's triggered by your initial video ad. This method of advertising can vastly increase the visits to your online store to see what you're promoting because the ads will be forced to the top of your audience's social feeds or placed strategically within articles, games, or other apps via the Audience Network.
Your ad sequence will start on the first day of your sale, promoting the specific items that are on special for a limited time. Be sure to have your website ready for these holiday price changes, or set up coupon codes that only work on the days in question. Be sure to include any applicable coupon codes in your daily ads, or on the product pages themselves with the dates they're valid.
Set up the ads for each day of your holiday campaign. You'll retarget these daily ads based on either video views (of the trigger video) or link clicks to the landing page (in the video ad) in separate ad sets.
Keep in mind that your retargeting audience size must be large enough for Facebook to spend your budget. Sometimes Facebook won't spend the whole budget set for ads unless the objective is broad enough or the audience is big enough. This is something you'll get a feel for once you're used to running ads.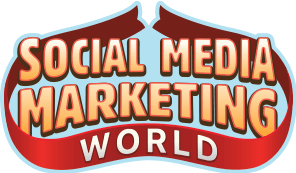 Get Expert Social Media Marketing Training!
Want to keep ahead of your competitors? Need to master a social platform? Discover how to improve your social media marketing at Social Media Marketing World 2020, brought to you by your friends at Social Media Examiner. You'll rub shoulders with the biggest names and brands in social media, soak up countless tips and new strategies, and enjoy extensive networking opportunities . Don't miss the industry's largest conference. Get in early for big discounts.
Sale ends
Tuesday, November 26th, 2019

.
To make sure your ads will deliver enough impressions and reach your audiences, you may want to set up one campaign with the Reach objective, and then duplicate the campaign and change the objective to Traffic or Video Views (if the media is video). Be aware of any changes you need to make throughout the campaign, ad sets, and ads when you change the campaign objective.
If your warmer audience is larger (such as tens of thousands or more)—or you decide to market to a cold audience—you may want to use the Conversions objective with the purchase event chosen for optimization from the ad set. To do this, you must also have the purchase standard event code on the purchase confirmation page that people go to after they check out from your shopping cart.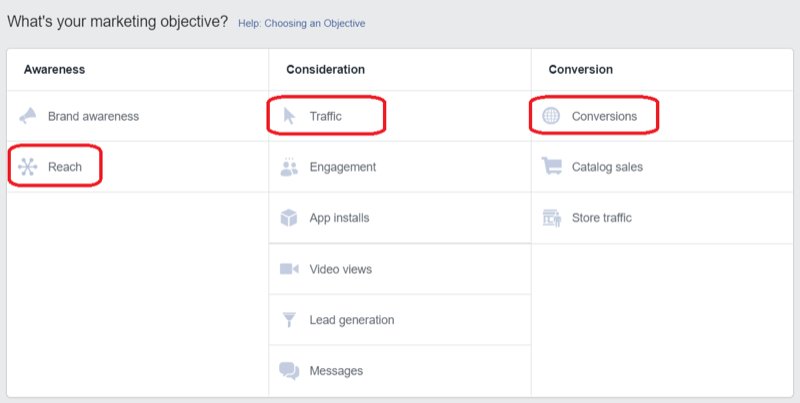 It's helpful to put the value of the products in the code as well (if your system allows for that) so you can see the actual return from your ads in your Facebook ads reporting tool. Remember, the purchase standard event code must be placed after the Facebook base pixel code or immediately after the body code.
Here's the purchase standard event code:
Note that when optimizing for purchase conversions, Facebook will automatically select people in your audience to send your ads to first who are more likely to convert, which is great for a larger audience. However, this may not be ideal if you consider most of the people in your audience are as likely to buy as anyone else because they're a more familiar audience, such as a custom audience of those who already know your brand.
There are two ways to make adjustments for this on a campaign with the purchase conversion objective:
Expand detailed targeting criteria by checking the Expand Detailed Targeting Criteria box in the audience segment of your ad set.

Optimize for landing page views, link clicks, daily reach, or impressions.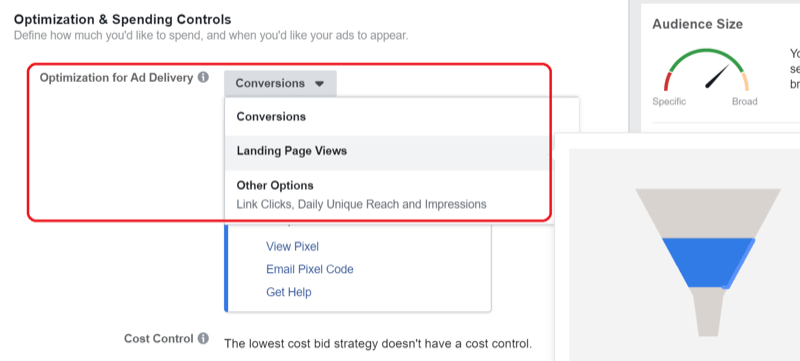 #4: Schedule Your Complete Facebook Campaign in Advance to Ensure Approval by Facebook
Schedule all of your Facebook ads ahead of time to run on the days you've set up to ensure they're approved ahead of time.
Facebook can be finicky and slow when approving your ads so keep these policies and guidelines in mind:
Your image or video thumbnail should have 20% or less text on the image. Use the Text Overlay tool to see if your image complies.
Give Facebook at least 24 hours to approve your ad, but realize the process can take longer, especially with video ads. To be safe, set up your ads 72 hours in advance.
Be aware of age-restricted material, such as alcohol.
If you mention the name Facebook in your ad, display the name with a capital "F," don't change the font size from the text around it, and don't use the Facebook logo.
You can find more guidelines about Facebook's ad approval process here. Facebook's advertising policies are available here.
If your ads aren't approved, take action as quickly as possible to correct them based on the information provided by Facebook, and then resubmit them. Further disapproval may require getting on chat support or going back to the drawing board.
Pro Tip: Collect Email Addresses to Follow Up With Reminders
When placing your Facebook video ad, make sure you send video viewers to a landing page where they can give their email so you can remind them of what items are on sale during your campaign.
It's always a great idea to send them to a thank-you page after they sign up for your list so you can entice the visitor to check out your store or take the next step in your marketing funnel. On that thank-you page, add the lead standard event code below your Facebook base pixel code to measure that action appropriately.
Here's the lead standard event code:
Be ready with a fun, welcoming email to send to new subscribers asking them to mark their calendars and visit your online shop for items they'd like to bookmark for the sale.
Set up an email sequence that will start on the first day of your sale promoting the specific items on special for a limited time. Send additional emails every time something new is on special.
Conclusion
Now that you know what to do to grow an audience quickly with Facebook video ads, capture subscribers for your list, and set up remarketing ads, consider staying in touch with your audience by sending them valuable information throughout the year.
Regularly reaching out to your audience with something educational or entertaining will help you stay top of mind when someone is looking to make a purchase. If you run a pet store, for instance, you could provide dog training tips, information about how to help a cat get rid of those pesky hairballs, or instructions on how to make a safe and sturdy cage for guinea pigs and rabbits.
There's no need to produce new content for everywhere you post. Repurpose educational content from your blog to your Facebook page, to an image on Instagram, or a quote on Twitter. Email links to your blog and other social channels to keep your subscribers actively clicking.
Regularly advertise valuable information throughout the year as well so your audience is much larger by the time the holidays come around again for your next limited-time offers.
What do you think? Have you set up an automatic Facebook Ad campaign for your business yet? What tips can you provide? Share your thoughts in the comments below.
More articles on Facebook ads: